First of all - hello!
Article which you're reading now is exceptional - it is our first resource on the way of building d:DONE community. Therefore, we'd like to send you a warm welcomes. Thank you for checking out on us!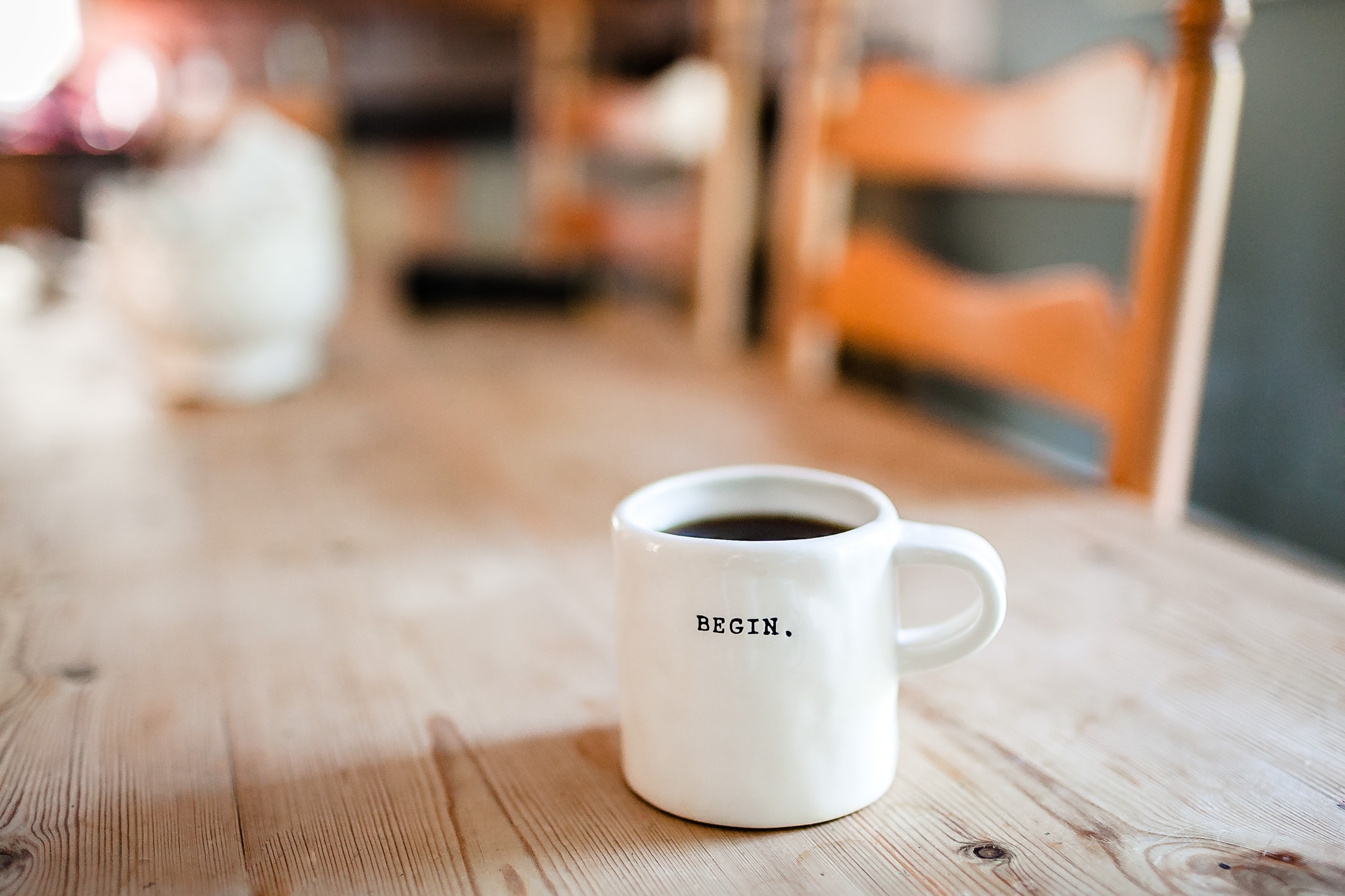 What is the productivity for us?
In the pursuit of time...
Time is extremely hard value to define. On the one hand it is the most precious, limited resource, on which our life is based. On the other, however, the more intensively we want to use it the faster it runs up for us. In the result, the words commonly repeated in most publications and articles often show us a very controversial path to follow. They promise more satisfactioning life on the cost of exhausting, mundane work and spending every moment on it by involving insane optimization of ones habits and life style.
Towards the disappointment
Such fascination about productivity very often results in:
lack of sufficient involvement in other aspects of life
chronic fatigue and burnout
loss of life satisfaction
Paradoxically, the only solution for above problems are mostly one thought: Slow down! But slow life is basically back to square one bacause in that situation we unbalance work in favor of relax. So how do you achieve the perfect proportions in your efforts and follow your long-term goals, but living wisely and enjoying every day?
We are constantly trying to find the answer to this question. It was because of this question that d:DONE was created.
The motivation of d:DONE Day Planner
With changing answers, one question remained constant - how to live each day wisely, keeping in mind long-term goals?
Analysis of core problem
The first bigger step leading to a rational solution to this problematic productivity mistery was studying many publications, articles and books about general time management topic. Leaving behind all the less or more popular techniques created in the last few decades, we went back to the beginnings of considerations about productivity and wise life to fully understand the source of the problem. This is how we got to Benjamin Franklin's "Autobiography". The figure of one of the founding fathers is definitely one of the greatest mind in history and one of the first such people who have documented their efforts in the best possible use of their time in the nowadays accessible sources. In d:DONE we refer in particular to the fragment describing the idea of routine according to Benjamin Franklin. And the initial thought from which we started our considerations is:
Create your routine balanced between vital areas of your life and then live according to it every day.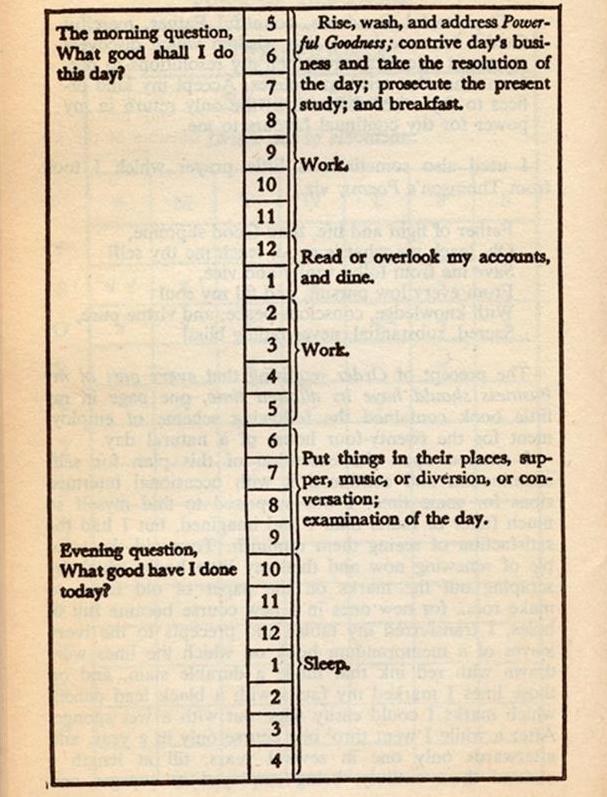 Benjamin Franklin's day routine
Restrictive day plans
The first obstacle that can be encountered by the most of the people trying follow their routine is severity of this approach - the typical actions here are to design the desired day schedule and then stricly stick to it. But days rarely, especially these days, occures according to our plans. It's also often that days differ from one another. And any deviation from our previously designed routine causes our frustration - it wouldn't be far from the truth to make an assumption that nobody likes when something doesn't go as planned. Maybe that's also you who had abandoned some goals, habits, routines because it was difficult to adapt them to your lifestyle?
Having that in mind, we need a day plans, which don't require from us redundant severity, however the will still be set to keeping the balance between life areas that matter to us. To counteract this few imperfections we decided to make a few statements, which we follow in d:DONE:
Day Plan - should be elastic and consist of two versions: planning and execution
Balance - should be maintained in the context of longer interval than one day
Life Areas
Before we start planning our day, however, we should definitely know between which vital aspects of our life we'd like to maintain a balance.
When setting borders between the areas it's very helpful to think about few things like:
Priority - how important it is to you to to find time for the given area
Hourly goals - very flexible assumptions on how much time you want to spend in the given interval of time
The particular life areas are related to the personal goals and needs. However, it can be observed that every one of them can be easily categorized into one of the below contexts:
Work - the work towards your goals
Personal - self-improvement and health care
Relations - spending time with people that matter
Fun - pure joy that make you relaxed
Sleep - time for regeneration
Having all of your life areas ordered that way it's very easy to control them. You only need to have an approximated ratio between the contexts and to maintain the balance between them. It is almost guaranteed that the areas, the parts of contexts, will be also maintaned according to your healthy balance.
After few months spent on problem analysis and software development we've reached the milestone, in which we achieved a satisfying tool that meets the requirements mentioned above. We created daily planner that is available in the very accessible form of mobile app with the following features:
flexible during the day - it allows you to both create plans and track the execution of the sequence of time blocks during the single day
transparent in maintanence - at the end of every day it provides you a complete productivity raport
easy in controling the life areas - it allows you to quickly categorize and list on particular contexts: Work, Personal, Relations, Fun, Sleep
If you're curious how the theory described above can enhance your day in practice we encourage you to simply test our app, which sums up our knowledge in the topic of healthy time management. If you decide to give it a try just now, we're open for direct conversation with you! We believe that with your help, together we can truly enhance ones days!
If you liked our first post and/or you see potential of what we're doing here - spread a word about us to your friends so that more people will look at it, that small action would hugely boost our work!
We wish you a great, smart lived day ~ d:DONE Team